RQX Q1 - CallBox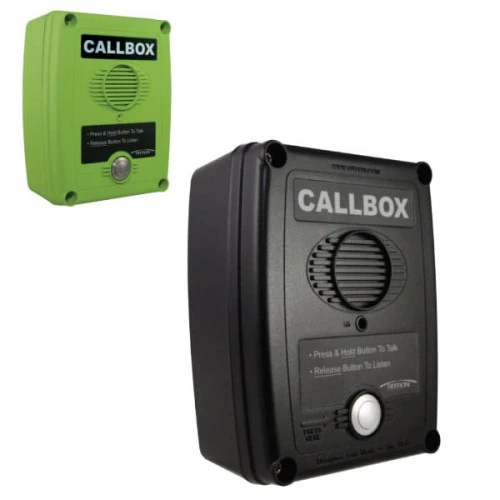 The Q Series callbox provides long range, 2-way communication and allows staff and visitors to communicate with your 2-way radio-equipped personnel from points near and far, — the plant floor, maintenance garage, gated areas, delivery dock or the 9th tee.
Put Communication Right Where You Need It!
Install the Q Series radio callbox virtually anywhere to maximize manpower efficiency, improve safety or service response times. Deploys easily —
no wires, no trenching, no construction required. Can be used stand-alone using alkaline batteries or can be powered using external AC adapter.

Features / Benefits:
Wireless, 2-Way, Push-To-Talk Narrowband Analog Technology
No Costly Trenching or Construction Costs To Install
High Performance/Features, Business Band Frequencies
Long Range —Up to1 Mile,* Line-Of-Sight. Works With Any Other Analog Business Band 2-Way Radio
Rugged, High-Impact Gasket Sealed Enclosure
Durable, Sealed and Weatherproof For Outdoor Use
Internal Antenna, Tough, Machined Aluminum PTT Button
​Long-Life, Tamper and Vandal-Resistant
Battery Powered or External Power Capable
​Stand-Alone Operation. No Wires. Or Opt. External Powered for Always-On Operation
High-Audio Output, High-Gain Mic Capability
​Adjustable Volume - Loud, Easy To Hear In Loud Environments
User Adjustable Settings and PC Programmable
​Allows Easy, In-The-Field Programming or via PC
Standard Flange Mount Hole Pattern
​Easy Installation. Optional Mounting Brackets Available
Available In Different Colors
Pick The Color Best Suited To Meet Your Need:
High Visibility Green and Coal Black

Custom Colors Available For Volume Applications
IDEAL FOR
Golf Courses

Manufacturing

Schools

Warehousing & Logistics