HB-1 Hambox BASIC VERSION
A unique and exclusive object to make your shack even more beautiful!!!
Project basic images

This is the basic version (standard) with no customization (No Callsign or personal text). It projects basic images on the wall.


Side 1 - "Life is Simple"
Side 2 - "I Love Ham Radio"
Side 3 - "I Love DX"
Side 4 - "I Love CW"
Side 5 - "Amateur Radio Active"
Side 6 - "Ham radio club sign"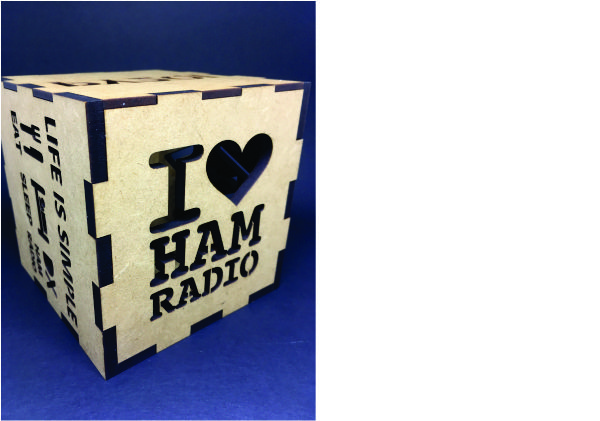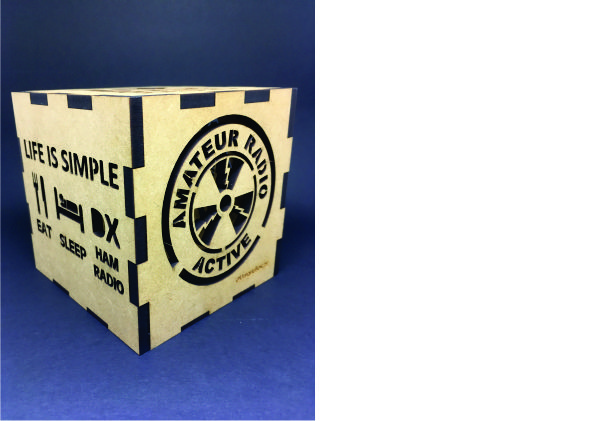 It's also a very cool gift to give to your amateur radio friends!

It works with high brightness LED and comes with a watch battery - easy to find on the market.
It measures 4,7 inches (12 cm) on each side and projects the personalized message on the wall of your station.
Take the opportunity to gift your wife with a special HamBOX "I Love my (name of your wife)" or any message you want. The example is in Portuguese but we can write a message to your wife in your own language with up to 33 characters divided into 3 lines of 11 characters.

EXAMPLE: TE AMO JULIA (I LOVE YOU JULIA)

Click here to order one for her!!!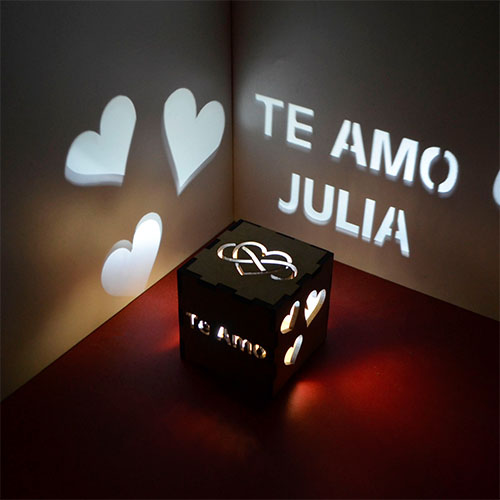 Technical specifications:
LED lighting and low-consumption, easy-to-find clock battery (LR-1130)
Dimensions: 4,72 x 4,72 x 4,72 (12 x 12 x 12 cm)
Only one side is personalized with up to 33 characters divided into up to 3 lines.
Made of wood and laser cut

Basic Version with no personalized text