M1-TCXO Frequency Counter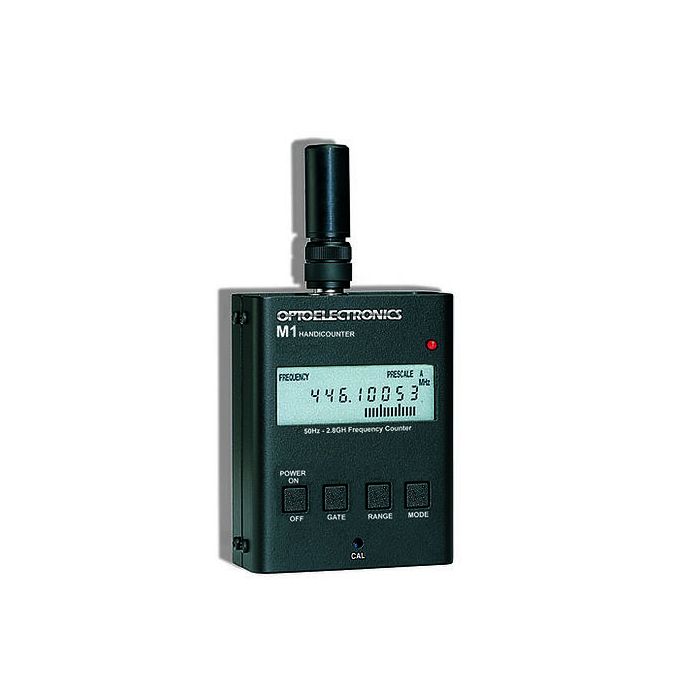 The M1-TCXO Frequency Counter TCXO FITTED, Useful for testing two way radios for frequency measurement in the field or using on the bench, the M1 is a full range 50Hz-2.8GHz frequency counter. Using an embedded micro-controller along with our powerful custom OE40 counter IC, the M1 provides advanced features such as our Patented Digital Auto Filter, Digital Auto Capture and Data Storage. The M1 BNC input may be switched from 50OHm to 1 Meg OHm for use with a scope or low pass audio probe for in-circuit measurement of test points and oscillators.
TCXO FITTED
The M1 has an high stability .5ppm TCXO timebase. This is twice as stable over time and temperature than most frequency counters.
Features 50Hz-2.8GHz frequency range
4-5 hour battery operation
10 digit LCD display
16 segment RF signal strength bargraph
100 internal memories
High speed 250MHz direct count with 1Hz per second resolution
10 gate times from 100 microseconds to 10 seconds
High impedance and 50 Ohm amplifiers for full range 50Hz - 2.8GHz coverage
Includes NiCads and power supply
Switchable 1 Meg Ohm input for use with a scope or low pass audio probe
Standard 1 ppm timebase
5ppm high accuaracy TCXO timebase
Technical Specifications
Frequency Range 50Hz-2.8GHz
Input Impedance 50 Ohm / 1Meg Ohm
Input Coupling AC
Max Input +15dBm (50mW) 50V AC+DC @ 1 Meg Ohm
Frequency Time Base 10MHz +/- 1ppm initial accuracy / .5ppm TCXO option
Display 9 digit LCD
Size 3.7"H x 2.75"W x 1.2" D
Power Requirements 9-12VDC, 300-1000mA, center +
Battery Internal rechargeable 4 cell NiCd
Battery run time 6-8 hours on full charge
Frequency Display Resolution
Range Gate Select Gate Time LSD Sample Display
250MHz 1 .0001S 10kHz 250.00
2 .001S 1kHz 250.000
3 .01S 100kHz 250.0000
4 .1S 10Hz 250.00000
5 1S 1Hz 250.000000
6 10S 0.1Hz 250.0000000
2.8GHz 1 .0064S 10kHz 2800.00
2 .064S 1kHz 2800.000
3 .64S 100Hz 2800.0000
4 .6.4S 10Hz 2800.00000
Input Sensitivity
50 Ohm 10MHz-2.8GHz 1 Meg Ohm 50Hz-40MHz
<10mV @ 10MHZ 25mV @ 1kHz-10MHz
<3mV @ 27MHz 40mV @ 10Mhz-40MHz
<3mV @ 150MHz
<5mV @ 450MHz
<5mV @ 800MHz
<12mV @ 1GHz
<25mV @ 2GHz
<100mV @ 2.8GHz