CCRadio 3 AM/FM with Bluetooth, NOAA Weather,
2-Meter Ham Band - Portable Radio (Black Mica)
#CC3B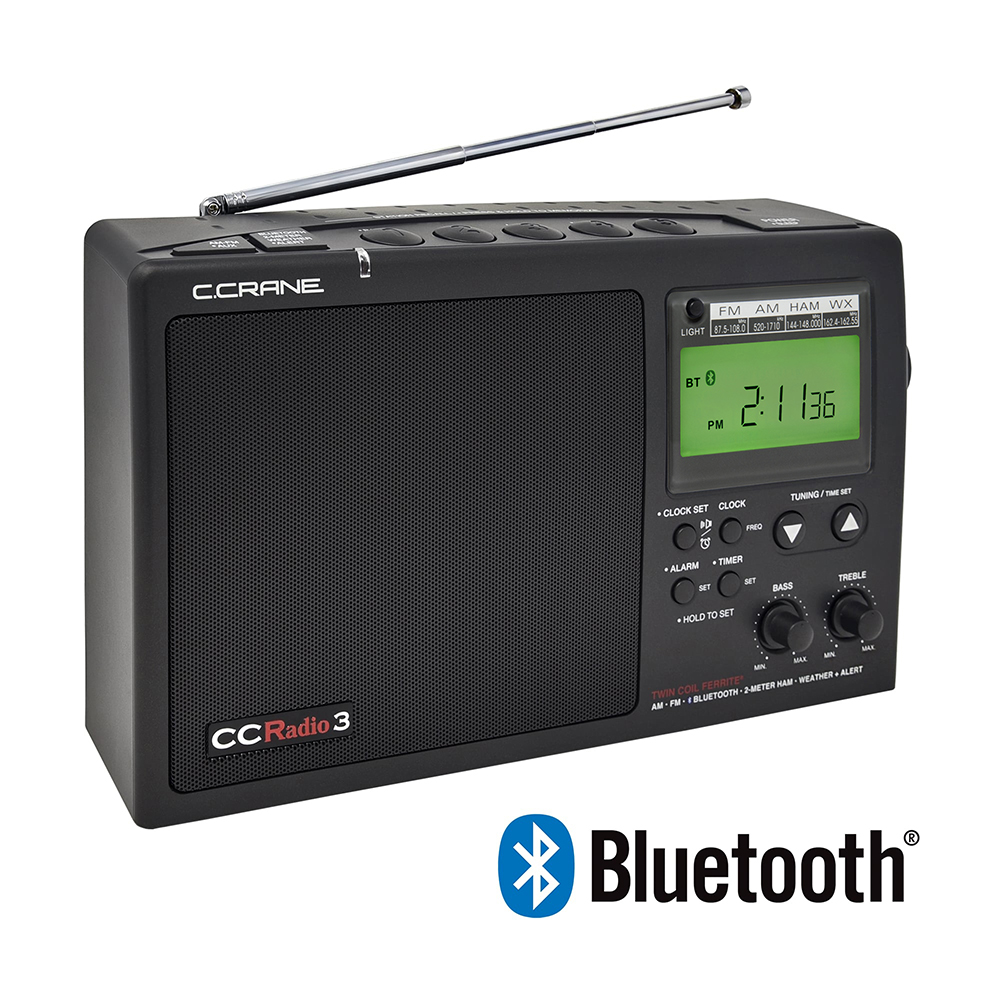 NEW CCRadio 3!
The new CCRadio 3 with Bluetooth®is now the "Almost Everything" radio.
With the addition of Bluetooth® you can receive an immense palate of new radio shows accessible from any smart speaker that can pair with a Bluetooth® speaker (such as newer model or updated Alexa Echo devices, Google Home devices, etc.) or smart phone. The amount of audio content you can receive is almost infinite. Your phone or speaker can also act as a remote control when using Bluetooth®.
The CCRadio 3 still has its exceptional reception for long range AM/FM stations along with emergency capabilities. The accurate voice reproduction of the CCRadio 3 gives you a seamless audio experience. Audio quality for the spoken word is so good it sounds like the person is next to you. When listening to your favorite radio show, podcast or audio book you become part of it. Separate bass and treble knobs can be adjusted to your perfect pitch. If you listen primarily to voice content, the CCRadio 3's audio is arguably worth the price alone.
Notes: Bluetooth® normally introduces noise on AM and FM due to the digital circuits. The CCRadio 3 is one of the few high-performance radios with Bluetooth® that has no detectable noise and some of the best reception available. CCRadio 3 is otherwise the same as the CCRadio 2E but with one small improvement; you can now toggle between AM/FM band rather than scroll through all the bands.
Weight: 4 lbs (without optional batteries) Size: 11" W x 6.5" H x 4" D.
Battery Operated (4) D sized batteries (not included) or use the included AC power cord.
Features:

Exceptional AM reception with the Twin-Coil® Ferrite Antenna

Audio tuned for the spoken word

AM, FM, NOAA Weather Band with Weather Alert and the 2-Meter Ham Band

Clock, alarm, sleep timer, Headphone jack and adjustable display light

5 one touch memory presets per band

Rotary Bass and Treble controls

Line-input and line-output jacks

External AM Antenna jack

Runs approx. 250 hours at a moderate volume level with the display light off.