NX-240V16P Digital Two Way Radio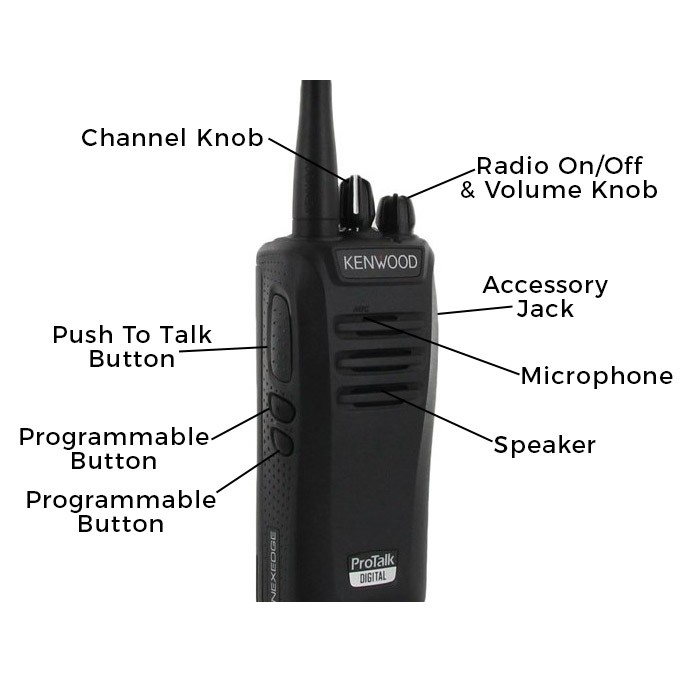 Kenwood takes you into the digital age with the ProTalk NX-240V16P VHF transceiver! The NX-240V is a 16 channel, 5 watt business two way radio capable of either analog FM or NXDN® digital operation on 151-159MHz VHF frequencies. It is also compatible with other analog business radios operating on the same frequency and code.

The NX-240V uses NEXEDGE® technology featuring 6.25kHz digital narrowband operation. The FDMA digital air interface with AMBE=2™ voice coding technology, unique filtering and a 4-level FSK modulation technique with low bit error rate provide superior clarity in extended coverage while in digital mode even at weak RF signal strength.

The ProTalk NX-240V-16P has a 4-color LED (blue, red, green and orange)and 2 programmable function keys on the side for simplistic flexibility during operation. It has a 16-position mechanical selector knob on top for instant access to all supported channels. A new 1.0 W speaker is built into the front for crisp, clear audio It is also VOX ready and is capable of wireless cloning. The NX-240V is also both dealer and user programmable.

The NX-240V16P also features zone/channel voice announcement, lone worker alert, timout timer, busy channel lockout, battery saver, and emergency call. It can also be password protected and can accommodate an optional KMC-48GPS speaker mic with built-in GPS.

The NX-240V business radio is also very rugged. This is a solid radio built to IP54/55 and military 810 C, D, E, F and G standards. Such durability makes the NX-240V-16P a great choice for both operation in light and heavy duty industrial applications, including construction sites, factories and warehouses.

Includes one Kenwood NX240V16P two way radio, drop-in fast charger, lithium-ion rechargeable battery, spring action belt clip, removable antenna, accessory port cover, speaker/microphone/headset locking bracket, channel stopper, owner's manual and a three year manufacturer warranty.
Kenwood NX-240V16P Features
16 Total Channels

27 VHF Frequencies (151-159 MHz)

5.0 Watt Output Power

User Programmable

Uses Rechargeable Battery Pack

Rechargeable Lithium Battery Pack Included

Includes Drop-In Fast Battery Charger

Emergency Call Features

Hands-Free (VOX) Mode (with optional accessories)

Voice Scramble

Wireless Cloning Capable

Manager Lockout

Busy Channel Lockout

Talk Around

Companding

Call Alert Tone

Channel Scan

Scan Channel Delete

Lone Worker Alert

4-Color LED (Blue/Red/Green/Orange)

Programmable LED Alert

High/Low Power Selectable

Low Battery Alert

Battery Saver

2 Programmable Function Keys

PC Configurable

Time-out Timer

Key Lock

Monitor Channel

Adjustable Microphone Gain

Zone/Channel Number Voice Announcement

Drop-In Charge Capable

IP54 / 55 Water / Dust Resistant

Audio Accessory Connector

Mil-STD 810 C,D,E,F & G

1.0 W Front Speaker

Two Tone Codes

NXDN™ Digital

Switchable Digital/Analog Modes

Optional KMC-48GPS Speaker Mic Option Available

MDC 1200 Compatible

Password Protected

Three Year Manufacturer Warranty
Included with the Kenwood NX-240V16P
Kenwood NX-240V16P Digital Two Way Radio

Lithium-Ion Rechargeable Battery Pack (KNB-45L)

Rapid Drop-In Charger (KSC-35S)

AC Charging Adapter

Belt Clip

Accessory Port Cover

Speaker/Microphone Locking Bracket

Removable Antenna

Channel Stopper

Owners Manual
Kenwood NX-240V16P Specifications
Battery Life: (5-5-90) Approximately 10/12 hours

Dimensions: 4.8" H x 2.13" W x 1.39" L (122 x 54 x 35.3 mm)

Weight (with KNB-45L battery): 9.9oz (281g)

Antenna connector type: SMA Male (Standard)