VIA Bravo MRI II Coil Analyzer - 100kHz to 200MHz (6015-5250)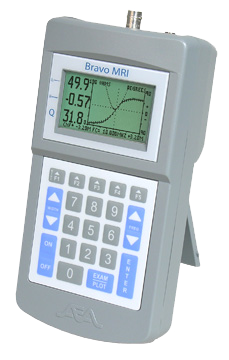 VIA Bravo MRI II - 100KHz-to-200MHz (0.1-to-3.0T). This is a dual N-type port model VNA
(pictured) for making S11 and/or S21 measurements (see Echo MRI port lists above). Although
slightly magnetic its small size and light weight make it easy to manager close to magnetic
cores. Accessories include extended length, 25ft (7m), DC power cord and serial cable which
permits remote power and remote PC operation using Bravo PC Vision software. Software, A/C
power adapter, serial cable, terminators, MRI interference filter, and Belt Case accessories are all
included.
VIA Bravo MRI II - 100KHz-to-200MHz (0.1-to-3.0T). This is a dual N-type port model VNA (pictured) for making S11 and/or S21 measurements (see Echo MRI port lists above). Although slightly magnetic its small size and light weight make it easy to manager close to magnetic cores. Accessories include extended length, 25ft (7m), DC power cord and serial cable which permits remote power and remote PC operation using Bravo PC Vision software. Software, A/C power adapter, serial cable, terminators, MRI interference filter, and Belt Case accessories are all included.

Part Number: 6015-5250

Included items: Bravo PC Vision Software, Manual on CD-ROM, Belt Case, Serial Cable, MRI Interference Filter, AC Adapter 100-240 VAC, AC Adapter extension and N Male Termination Kit (short/50Ω load).