ATR-20 TUNER, ROLLER, 1500W, 110/220 VAC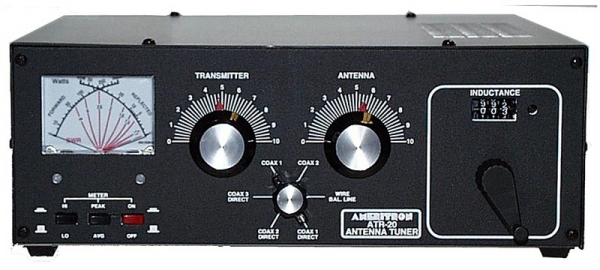 The ATR-20 is the little brother of the Ameritron ATR-30 True Legal Limit antenna tuner! Its Ameritron Tough -- handles a full 1.2 kW SSB and 600 Watts CW. Its designed to safely handle the full SSB power of Ameritrons AL-811, AL-811H, AL-80B, ALS-500M, ALS-600 and other 1.2 kW SSB amplifiers. Compact all metal cabinet measures 13W x 4 3/4H x 17D inches.
The ATR-20s roller inductor (gear driven with turns counter and crank knob) "T" matching network continuously tunes all frequencies from 1.8 through 30 MHz. Both tuning capacitors have vernier reduction gear drives for smooth precise tuning.
Features an accurate built-in 3 kilowatt true peak or average detecting directional power meter. Peak and average forward power, reflected power, and SWR are displayed on an illuminated cross-needle meter. Legends will never wear off -- scratch-proof Lexan front panel.
The ATR-20 has rear panel connectors for coaxial wire and balanced feedlines. A heavy duty, high voltage insulated, current type balun allows use with balanced feedlines.
Properly tuned, the ATR-20 safely operates on all bands with RF powerlevels of 1.2 kilowatts SSB and 600 Watts CW with load impedances from 5-800 Ohms. Matching range extends from 1 to 2500 Ohms (5 to 500 Ohms on 160 Meters) at reduced power.
An internal six position antenna selector switch selects three coaxial line outputs, or a single wire line/balanced line output. Two coaxial line outputs, Antenna 1 and 2 are available in either "tuned:" (with tuners matching network in line) or "direct"(no matching circuit) configurations. Coaxial output port Antenna 3 is direct only.