ALS-1300X HF AMP, 1200 WATT SOLID STATE, EXPORT W/10METER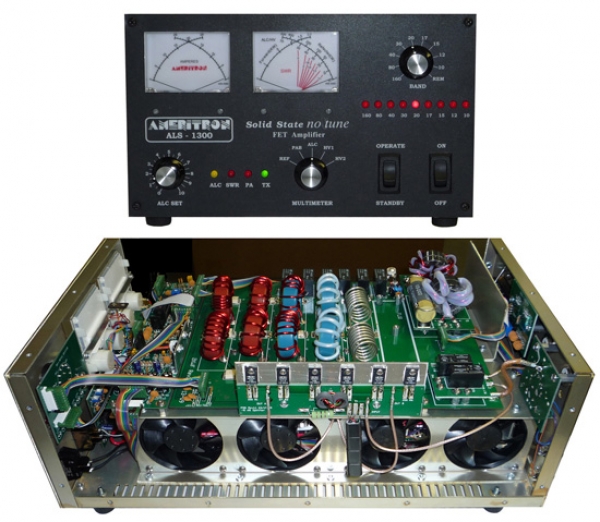 The ALS-1300X includes the 10/12 meter mod kit preinstalled MOD-10MK. Must present FCC license at time of sale.
The AMERITRON ALS-1300 is a solid state near legal limit™ FET no-tune Amplifier. Get instant bandswitching, no tuning, no warm-up, no tubes to baby and no fuss!
The reliability of the ALS-1300 is insured by using eight rugged MRF-150 power FETs. Ameritron's eight FETs are mounted on the dual heavy duty heat sink. They are properly arranged to spread out the heat over a large surface, something that other amplifiers using a single power device cannot do. Some FETs actually are a package of several transistors in one large case. This concentrates all of the heat in one small package. They not only are more difficult to cool, if one transistor fails they all have to be replaced.
The ALS-1300 RF deck operates from 50 Volts for efficient, low distortion linear RF power service. It's cooled by a whisper quiet cooling fan. Fan speed is regulated by temperature sensors, assuring minimum noise for adequate cooling.
ALS-1300 runs up to 1200 Watts of clean SSB output power (just 100 Watts drive gives you the full rated 1200 Watts output) for continuous coverage between 1.5-22 MHz. 10/12 Meters available to licensed amateurs with an optional kit (MOD-10MK). Must present FCC license at time of sale.
The operator-friendly layout fits nearly any station configuration. The attractive desktop amplifier unit weighs only 22 pounds. Compact 10W x 6 1/2H x 18D inches. SWR Protection prevents amplifier damage if you switch to the wrong band, use the wrong antenna or have a high SWR. Overpower protection enables if output forward power or reflected power exceeds a safe level.
Output power is automatically reduced to prevent amplifier damage by controlling ALC to exciter.
LED illuminated Cross-Needle SWR/Wattmeter lets you read SWR, forward and reflected peak power simultaneously. You also get ALC, SWR, PA balance and transmit meter and LED indicators. An Operate/Standby switch lets you run barefoot, but you can instantly switch to full power if needed.
Front-panel ALC control! This exclusive Ameritron feature lets you adjust output power on the convenient front panel display.
You also get front panel Operation, Band, and error LED indicators like reflected power and bandswitch errors.
Enjoy 1200 Watts of no tune Solid State power with the Ameritron ALS-1300 amp.
But it gets even better than this! Do you want to place even the main ALS-1300 amplifier out of the way? Do you want the ALS-1300 to change bands automatically when you change bands on your radio?
You now have these options.
A pair of RJ45 remote control interface jacks on the amplifier permits ALS-1300 to be controlled either manually by the optional ALS-500RC Remote Control Head, or automatically by the optional ARI-500 Auto Band Switch.
The Automatic Band Switch reads band data from your transceiver and automatically changes the ALS-1300 bands as you change bands on your transceiver. A superclean layout with easy-service modular construction will give you years of operation.
ALS-1300SPS Power Supply
The ALS-1300 is powered by a 50 VDC switching power supply.Comes with pre-wired cable to plug into the ALS-1300.
This hash-free fully-regulated switching power supply is only 12 lbs. and measures a compact 10W x6 1/2H x9 1/2D in. It can be placed conveniently out-of-the-way at your operating station. Output is 50 VDC at 50 Amps to the ALS-1300. Wired for 220 VAC, selectable to 110 VAC. Draws less than 25 Amps at 110 VAC; 12A at 220 VAC.
Also for sake is the ALS-1300X which includes a 10/12 meter mod kit.