CC Skywave SSB AM, FM, Shortwave, Weather, VHF,
Aviation and SSB Bands Portable Travel Radio #SSB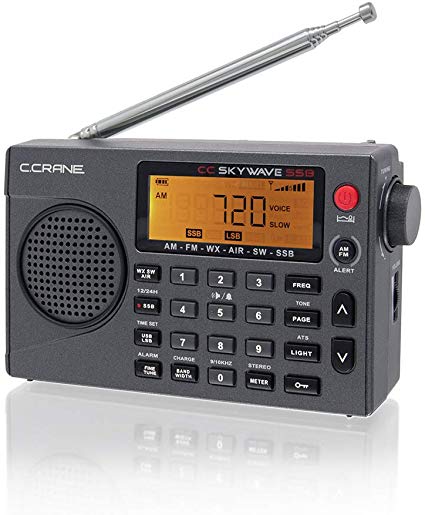 With AM, FM, Shortwave, Weather + Alert,
Scannable VHF Aviation Band and Single Side Band
The Swiss Army Knife Of Portable Radios
One of the smallest multiband radios with SSB, the new Skywave-SSB has everything the original Skywave has. But we continue to have a select group of radio enthusiasts who want more... "The CC Skywave has shortwave but it would be perfect if it had Single Side Band". The entirely new circuit also allowed us to improve the audio and reception slightly while keeping the button layout as intuitive as possible.
You can now listen to FEMA, long range aviation, ships at sea (think coast guard), space, even transmissions and other worldwide communication when nothing else is available. Single Side Band in not available on your smartphone which makes it the ultimate off the grid format.
Included is a CC Shortwave Reel Antenna, a pair of our original CC Buds, and a faux leather carry case.
General Features:

AM, FM, NOAA Weather band plus Alert, Shortwave (1711-29.999MHz) with SSB, VHF Aviation Band

Direct entry of a frequency plus auto scan and store

Lighted LCD display

Selectable fast or fine tuning on all bands except weather

400 memory presets

10 Aviation Memories can be scanned for activity

(Optional) CC Skywave AC power adapter w/ mini USB plug required for charging NiMH batteries.

Runs on (2) AA Alkaline batteries (not included)

Run Time (on batteries):
± 70 hours (earbuds)
± 60 Hours (built-in speaker)
(times are approximate)

Stereo headphone jack and fold-out back stand

Clock with 12/24 hour format, Alarm

Rotary volume knob

High quality CC Buds Earphones, radio carry case and CC SW Reel Antenna included

One Year Limited Warranty
Weight: 6.0 oz. (without batteries). size: 4.75" W x 3" H x 1.1" D