A unique and exclusive object to gift your loved ones!!!
Project their name, nickname or whatever your imagination allows

Customized with up to 33 characters divided into 3 lines of 11 characters, of your choice.
As it is a personalized product, it will be shipped within 7 business days.

One side is personalized with up to 21 characters divided into 3 lines and will be projected with light!
(When placing your order, tell us what you want to be written)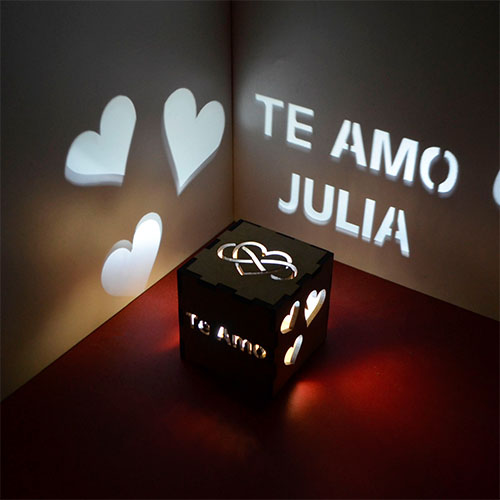 It's also a very cool gift to give to your relatives and friends!!!

It works with high brightness LED and comes with a watch battery - easy to find on the market.
It measures 4,7 inches (12 cm) on each side and projects the personalized message on the wall of your station.
Technical specifications:
LED lighting and low-consumption, easy-to-find clock battery (LR-1130)
Dimensions: 4,72 x 4,72 x 4,72 (12 x 12 x 12 cm)
Only one side is personalized with up to 33 characters divided into up to 3 lines.
Made of wood and laser cut

When ordering, inform what you want to be written