This item is shipped worldwide from USA

Anytone Apollo II is one of the Slimmest 10 Meter Radio with color LCD display. The new Anytone Apollo II 10 Meter Radio offer advanced features, customization settings, compact 40 Watts AM PEP radio, in a remarkably small chassis.
The wrap around cast aluminum heat sink does an excellent job at dissipating any heat that's generated during transmit.



01: Dimable TFT Color Display
02: Scan Functions
03: Dual Channel Watch
04: Operating Voltage
05: Channel Quick Access
06: DTMF (encode)
07: Programmable via PC Software
08: High & Low Power (4 watts or 10 watts carrier)
09: Dual Channel Watch
10: Digital S-Meter Display
11: RF Gain of / Auto + 10 Attenuation Levels
12: Roger Beep Functions (8 settings)
13: Microphone with UP/ Down Selection
14: Time-out Timer Functions
15: Backlit Keys
16: Dual Channel Watch
17: Four Memory Channels
18: Noise Blanker Functions & Hi Cut Filter
19: CTCSS / DCS (encode & decode) 38 CTCS / 104 DCS
20: Squelch (Manual or ASQ) & Volume Adjustable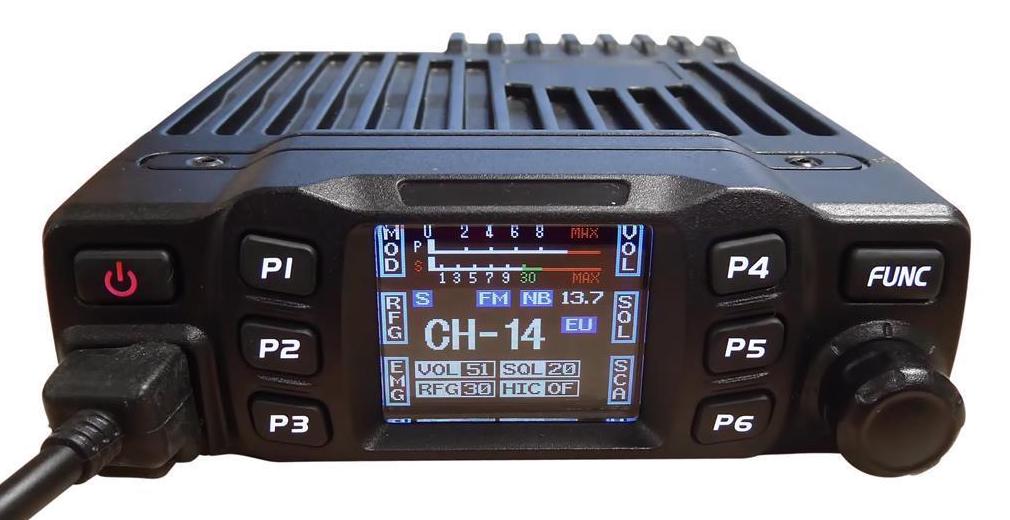 01: Dimable TFT Color Display
02: Scan Functions
03: Dual Channel Watch
04: Operating Voltage
05: Channel Quick Access
06: DTMF (encode)
07: Programmable via PC Software
08: High & Low Power (4 watts or 10 watts carrier)
09: Dual Channel Watch
10: Digital S-Meter Display
11: RF Gain of / Auto + 10 Attenuation Levels
12: Roger Beep Functions (8 settings)
13: Microphone with UP/ Down Selection
14: Time-out Timer Functions
15: Backlit Keys
16: Dual Channel Watch
17: Four Memory Channels
18: Noise Blanker Functions & Hi Cut Filter
19: CTCSS / DCS (encode & decode) 38 CTCS / 104 DCS
20: Squelch (Manual or ASQ) & Volume Adjustable