CC Skywave AM, FM, Shortwave, Weather + Alert
and VHF Airband Small Portable Travel Radio #SKWV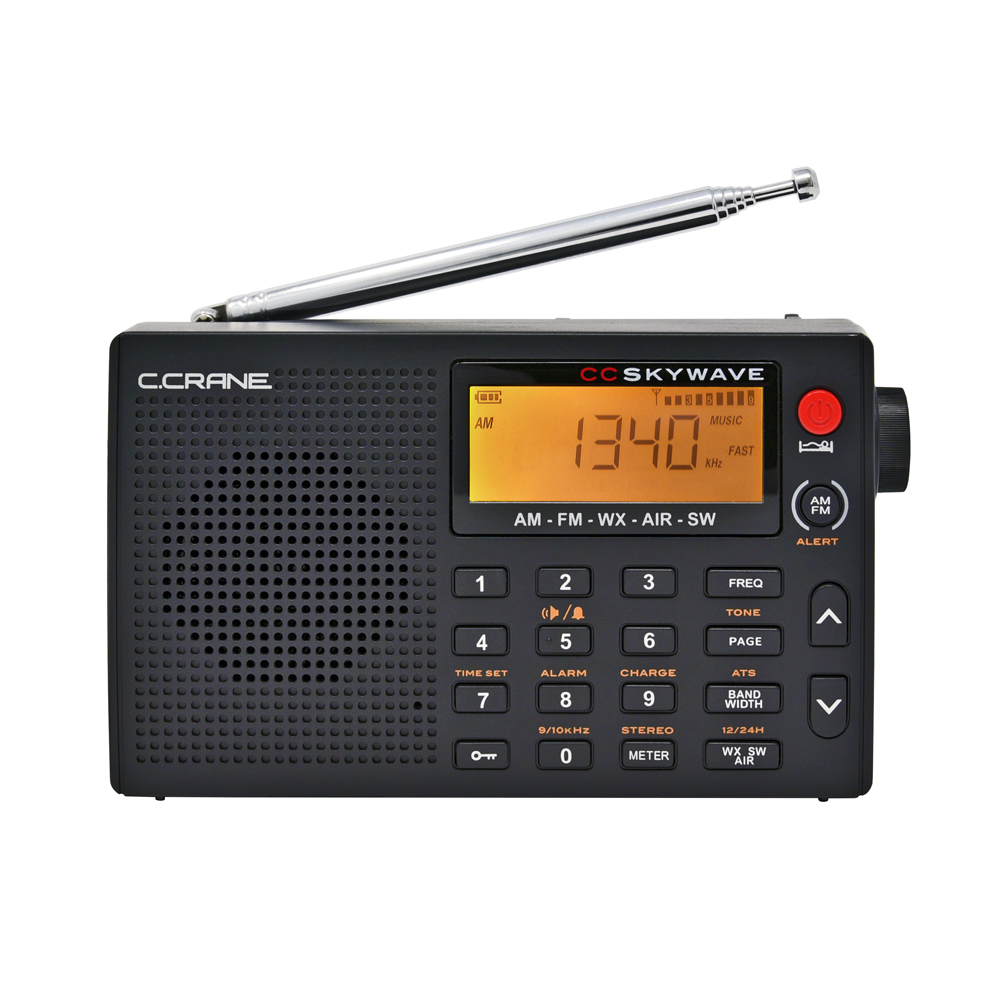 Stay Connected to Your Favorite Radio Shows While Traveling with the CC Skywave Radio.
The CC Skywave™ opens up a marvelous world of radio at home or when you're traveling. The reception, audio and durable build are what this radio excels at. It has an intuitive layout so it is easy to use and has exceptional overall performance. Incoming radio signals can be manipulated to reduce interference.
Weight: 6 ozs. (without batteries). Size: 4.8" W x 3" H x 1" D. runs on optional 5V AC Adapter (not included) battery operated (2) "AA" batteries (not included).
General Features:

AM, FM, Weather plus Alert, Shortwave (2.3-26.1 MHz) and Air Band

Direct entry of a frequency plus auto scan and store

Lighted LCD display

Selectable fast or fine tuning on all bands except weather

400 memory presets

Runs on (2) AA Alkaline batteries (not included)

Run Time (on batteries):
± 70 hours (earbuds)
± 60 Hours (built-in speaker)
(times are approximate)

(Optional) CC Skywave AC power adapter w/ mini USB plug required for charging NiMH batteries.

Stereo headphone jack and fold-out back stand

Clock with 12/24 hour format, Alarm

Rotary volume knob

High quality CC Buds Earphones and radio carry case included

One Year Limited Warranty

Never listened to the Aviation band? This band lets you listen to nearby pilots, air traffic controllers and ground crew. When traveling, airline schedule changes and problems can be perplexing and annoying. Listening to control towers can provide endless entertainment and informative tidbits of information. It is as simple as telling the Skywave to scan for an active frequency until you find some action. The best one is usually the approach frequency used for planes that are landing and you'll know if you've found the correct one when you hear it. You can also search the web for "air traffic control radio Seattle" for example, to find information and to learn more about aviation radio. If you live next to a smaller airport you could ask a local pilot for the frequency or look up "common traffic advisory frequency" plus the airport name. English is the standard language used in aviation at all airports worldwide.

When traveling abroad, unless you have checked local laws, tuck your Skywave™ into a safe corner of your carry-on. An Airband radio may not be legal to have in some countries.

Click Here for The SWLing Post Review of the C. Crane CC Skywave portable radio.